Career Hero Academy
Help your clients find real work by helping them become more real. Career Hero is a new, self-paced and online version of 'The Implicit Career Search' - the internationally renowned program developed upon the results of research conducted over a 4 year period with 768 unemployed clients in British Columbia, Canada.

The Implicit Career Search has been helping people find meaningful careers faster than traditional approaches for the last 30 years. And even faster when combined with traditional approaches!

The Online CAREER HERO Program Includes:
6 Career Planning Modules and a 'Vault' full of additional resources
An "Ace Your Interview' module
An 'Emotional Fitness' module
An active, moderated forum
Monthly coaching calls for clients
Monthly information calls for Career Advisors

Clients spend an average of 1 - 3 hours on each module and are expected to complete a comprehensive and attainable career plan during Module 6.

*At this point this program is available only to residents of Alberta.




Working On Purpose
FLEXIBILITY!
A live, and lively, online, condensed version designed to complement the Career Hero Program. Participants may delve further into each of the workshop explorations, or may simply move onto Modules 6 and 7 of Career Hero. Or they may return to further explore each module at anytime they wish.
Participants will
experience Modules 1-6 of Career Hero: Taking Charge, Getting Unstuck, Getting Real, Working On Purpose, Career Development and Strategic Planning
Gain Clarity on
what it takes to develop a fulfilling future career while working to meet the demands of the present
Complete a report
describing their progress and learnings from each module and be
prepared to discuss short, medium, and long term career plans with their advisor
Experience
short lecturettes, quizzes, group discussions, guided imageries, movement (yes!) exercises and...
Support....Support....Support!
2023 Schedule

May 15-19 June 19-23
July 17-21 Aug 15-21
Oct 23- 27 Nov 20-24

Jan 15-19 (2024)
Feb 26- Mar 1 (2024)


For Career Advisors:
A freshly motivated, focussed and purposeful client ready to participate enthusiastically in the other programs you have to offer.
Career Hero transformed the way we get our clients back into work. It's almost magical.
Brendan Bakay
Procurement and Resource Management - Contract and Procurement Specialist, Government of Alberta


Is your employment agency looking for:
The missing piece?
An approach that unites all your other tools and methodologies into one focused plan for you and your clients.
The main motivator?
Awakening the desire in your clients to contribute, to participate, will provide them with powerful motivation to take full advantage of the other programs you provide.
Results?
Numerous studies on The Implicit Career Search have proven that placing an emphasis on long-term visionary planning produces greater results in short-term employment procurement.
Are your clients facing these challenges?
Want more than a survival job but still want to survive?
Wait till you find out what a seed job is.
The problem with 'survival jobs' is they usually end sooner than you want them to, and you are left looking for another 'survival job.'
Now a seed job helps your plan grow roots, get established, in order for the rest of the plan to germinate.
Want to do work that is meaningful, pays well, contributes to their community but…
don't know where to start? Career Hero is 'stackable' in design. The learnings from Module 1 are applied in Module 2. The learnings from Modules 1 and 2 are applied in Module 3. And so on, until the plan emerges in Module 6.
Have no idea what type of resume, cover letter, Linkedin profile, etc. is effective?
Module 7 is waiting for them!
All ICS aligned programs are based on the modules described below.
Once you download the map, click on each of the icons to learn how to apply the world's most powerful motivator to developing and delivering an attainable, sustainable and fulfilling career.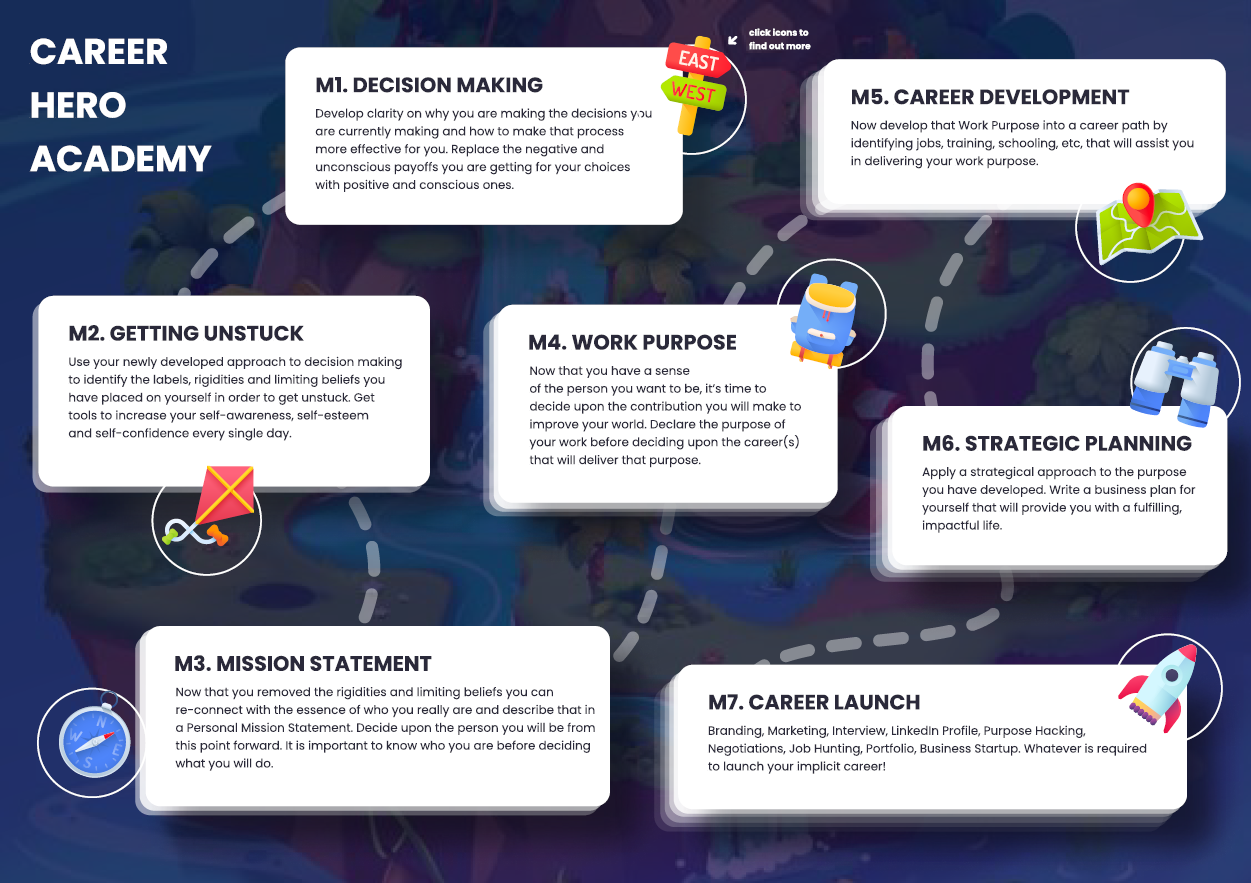 The Implicit Career Search is a fantastic career discovery tool. It helps draw out things we've forgotten about ourselves, passions, interests, skills and thoughts/ideas from the past. These hidden knowings are often the road map to the career that is best suited to us. Whether it's the mature worker forced to find a new career, someone new to the workforce and everyone in between, ICS is a great tool to assist clients in informed career decision making.
FAWN NIELSEN, BC CERTIFIED CAREER DEVELOPMENT PRACTITIONER
Show me this actually works
#1 Results from independent studies
Check the results these programs have been delivering over the last 35 years. Click each tab to discover the results from the independent studies conducted on ICS.

CAMBIE STUDY
Results 4 months after the program
Standard Job Services
ICS
Total employed or doing productive work
31%
78%
Off Income Assistance due to employment
4%
13%

This is the first study of the Implicit Career Search program, commissioned by the Federal Government and conducted by Cambie Group International.
Income Assistance Clients in Kelowna BC were directed to either the Standard Job Services Program (95 clients) or The Implicit Career Search (40 clients).

Full study results available here.
| | | |
| --- | --- | --- |
| UK STUDY | Standard | ICS |
| Increase in likelihood of sustaining employment | 7.5% | 15% |
| Increase in Self-Esteem | 7.5% | 15% |
| Participant Satisfaction | 43% | 90% |

Working Links, an employment agency in the UK, set up a comparative study where ICS was delivered to a group while their Standard Job Services were delivered to another.
At the time of the study the 7.5% results were considered satisfactory by the UK government for this clientele. Participants had been unemployed for a minimum of 4 years.
Full study results available here.
| | | |
| --- | --- | --- |
| ADAM'S LAKE FIRST NATIONS | Pre-ICS | Post-ICS |
| Participants | 22 | 22 |
| Longest term of employment | 2 months | 1 year + |
| Business plans developed | | 21 |
| Independent Contractor | | 1 |
| Started a small business at end of program | | 8 |
| Working in a job | | 12 |
| Perfect attendance record for 6 months of employment | | 10/12 |
Adams Lake First Nations (BC, Canada) contracted Jeremy Cooke of AC Eagle Enterprises of Kamloops to deliver a program intended to guide some of their unemployed members toward self-employment (small businesses, i.e.,: bannock stands, craft sales, etc.). Many of the participants had never worked and most of the others had not held a job for longer than two months.
#2 Results from government clients

"I went from a mature worker who nobody wants in a 25% unemployment market with no post-secondary education, in the middle of a pandemic to the job I'm in now. I identified my work purpose which gives me so much inner pace [...] it's absolutely transformative."
"This program is very different than anything else I have ever done. At times it will be very difficult but it's absolutely worth it. By the end of it I feel like I have a completely different outlook all together[... ] It's freeing!"

"It has been an eye opener. Before starting the modules I was constantly trying to find my way as in what do I do [...] at first I was feeling so depressed, so out of place, so out of sorts because I have been out of the job for over 1 year and when I found this course I'm like... what the hell was I doing before? where was this course all the while?"
"I always saw work as a tool to get money and then leave and be happy. That's how I grew up in my country and in my culture[...]I was telling myself that I like a lot of things but I don't have a passion. Now I see that that's a super selfish thing. I'm just thinking about my happiness, not what I'm giving to others."
#3 Results from diverse groups of participants

"Near the beginning of Module 5, work mentality was brought up, and this is something that really resonated with me. The notion of "TGIF", or living for the weekend, work seen as a "chore" that you must "get through", working to live vs. living to work... etc. This has definitely been a mindset that I had grown up with and something that I've been working on changing as I've gone through the course. I think a major person "win" up until now was realizing that if your work is in line with your greater purpose, it can be fun, rewarding and fulfilling."
Ksenia, Career Hero Participant 2021

"I have completed Module 3, written what I think is my Mission Statement, and shared it with the group even though that makes me a little uncomfortable. I feel like this course is something every person should take."
Nicole Sylvestre, Career Hero Participant 2021

"The career beliefs that resonated with me more are 'There are no jobs out there' and 'I must follow the steps in the correct order'.
I picked up the 'There are no jobs out there' belief from listening to other people unable to get what they wanted. I am tired of hearing this and I want to figure out a way to prove this belief wrong. I picked up 'I must follow the steps in the correct order' from high school and university. Though I appreciate the structure of following steps, I am looking for ways to quickly get from point A to point B on my career path. I like to believe that shorter and less painful paths may exist to allow us to get to where we want to go.
I was really, really surprised that the Self-Esteem produced insights in my current career path. That's not to say I view the last 20+ years of my education and jobs as a waste. It is more the realization that I should pivot away from jobs/careers that further isolate me from people."
Alex Chang, Career Hero Participant 2021
"I think identifying payoffs can help me realize why I act in certain ways. I may have gained gratification or satisfaction but the act may harm me in the long-term. This helped me have a better understanding about myself and can definitely help me make better decisions in the future. [After this program], my goal is to become a regulatory and environmental compliance professional specific in greenhouse gas emissions and other air pollutants."
Marie Lau, Career Hero Participant 2021
"Most employment programs only motivate their clients for a very short time whereas individuals who have taken the Implicit Career Search leave inspired as they have a greater connection with themselves and a renewed sense of self-esteem, and self worth which creates more determination to achieve their personal and professional best. Through experiencing the ICS, clients discover a deeper connection to the work they are meant to do and in many cases their contribution is far more enduring than those returning to work for sake of a pay cheque. As job retention is enhanced, clients are therefore less likely to return to government financial assistance. Over the past 7 years, this program has continually met and exceeded their contractual targets and the program evaluations from both the clients and the funder have been extremely positive. We feel confident that the Implicit Career Search is the best career tool available today and your clients and community can only benefit from this important resource."
Shannon Carphin, RRP Director of Programs PACIFIC JUSTICE SERVICES ASSOCIATION

"I have been facilitating a three-day version of the Implicit Career Search workshop at a WorkBC Employment services agency in BC for the past three years. Employment consultants in the agency refer their clients to the workshop. Some of the most profound feedback I have received is from them. They have told me that their clients come back to them with greater clarity and focus. They find it particularly useful for clients that are pursuing training because they come out of the workshop with more confidence in their choice of career and a solid plan. ICS helped me define my very rewarding career and every time I deliver the workshop I feel like it is doing the same for others."
Heidi Abbott, Career Counsellor Parksville Career Centre, BC
"I am currently delivering ICS to groups of tier 3 and 4's under the EPBC mandate and am achieving greater results than I had hoped for! Clients actively participate in each module, attendance is almost perfect and they are moving on from ICS to enthusiastically participate in the other services we have to offer."

Allison Houweling, Program Facilitator, John Howard Society, Vernon, BC

"In a 3-day, 6-module workshop, ICS can accomplish what might ordinarily take weeks of Case Management sessions and separate individual or group workshops."
Bill Brown, Community Partnership Coordinator/Facilitator, Alberni Valley Employment Centre, Port Alberni, BC

"I have seen ICS turn around a group of long-term unemployed jobseekers from low energy and despondent to energized and focused. This career- based solution is profoundly ground breaking."
Bill Davies, Senior Consultant, JCA (Occupational Psychologists) Ltd, Cheltenham, UK.
An excerpt from a report written by Fred Stratton, Acting Deputy Warden, Surrey, BC, Canada Pre-Trial Centre after The Implicit Career Search was delivered to 12 remand prisoners:
"…At the end of the course the participants each completed a course evaluation. My experience with these types of evaluations is that either the course is generally accepted and appreciated or written off by the group. In this instance I was pleased to see that the participants unanimously found this to be a helpful and intuitive course. Some comments were:
"This course helped me identify my essence and gave me the guidance and tools to become a more respectful, focused, confident and aware person."

"The course was awesome and the facilitators were great"

"I really feel this program will change my life, in a better way and I feel wonderful."

"...it revealed a lot about myself that I did not know."

"It was very inspirational... instructors were very professional... I give it 10/10"

"Taught me how to make better choices"

"This course gave me tools that I can use in my everyday life."

"I really believe this course will change my life in a better way and I feel wonderful."

"Wow! I'm learning."

"I would like this course to be offered to other inmates."

Overall these were the type of comments we received from all participants. There were a lot of comments about finding essence and motivation. Next were the references to improved planning skills and overall were the comments about thoroughly enjoying the course. My follow up with the participants showed a retained improvement in their outlook for inmates that were still in this centre, after several weeks. Only a follow up in subsequent years will be able to show a long term effect but the fact that I had a number of other people ask for the course shows the word of mouth was good from participants to their friends. My experience with Steve and Tedd left me comfortable with their style of delivery for both inmates and staff. There was a solid connection within the group."
Fred Stratton, Acting Deputy Warden, Surrey Pre-Trial Centre
"Each of the ICS trainees have now identified career plans which have conjured up a passion for what they are really interested in life. This has created an additional 12 jobs and is leading us to help establish longer term businesses for some of the individuals in reaching their dreams. Dreams that have been crystallized by Steve Miller's great coaching work in his "Implicit Career Search" program."
Jeremy Cooke, P. Eng. CEO: Adams Lake Corporation
'On day two of this workshop I realized why it felt weird…of all the many programs I have participated in, and been forced to take, this is the first one that talks about me. Weird!"
Monica Kenoras, Neskainlith Indian Band.
"ICS delivers the perfect balance of personal development and essential skills training for individuals to become employment ready. Our clients emerge from ICS Training with a solid plan and renewed confidence to take those steps and achieve their goals."

- Terry Deakin, CEO, INEO Employment Services, Work BC Port Alberni, BC
'WE WORK' is a short read describing the philosophy and approach behind ICS.

Download a free online copy.
Thank you! Now check your inbox (or spam)!
Latest from our blog
The following articles (some short, some too long) describe how the Career Hero philosophy and approach applies to different aspects of career planning. Caution - these editorials contain dangerous levels of satirical content!

Sign Up For The Working On Purpose Workshop!
Sign up to
Working On Purpose Workshop(Jun 19-23)